For students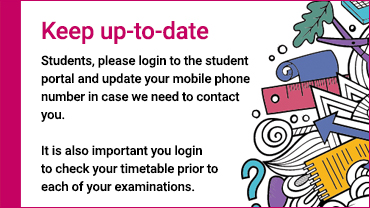 Students and parents should be confident that the Authority continues to work from the premise that no student should be disadvantaged as a result of the COVID-19 pandemic . We will continue to update you with advice and support as we respond to the challenges of the evolving situation with COVID-19.

Keep learning, work with your teachers and do your best.

Look after yourself, whether you are at school or at home.

Reach out to family, friends and your teacher if you need to.
Students in Years 11 and 12 should refer to the course-specific information on the teachers' and school leaders' Years 11 and 12 page for details about course assessment.
The Authority confirms that for Year 12 students undertaking studies in ATAR courses towards the Western Australian Certificate of Education (WACE) the 2022 ATAR course written examination period will go ahead as scheduled from 31 October 2022. The written examinations will be the same length of time, and in the same format, as indicated in the syllabuses for each course.
All ATAR course practical examinations will go ahead as scheduled.
The wellbeing information on pages 16 and 17 of the Year 12 Information Handbook Part I: Information for all students available at https://senior-secondary.scsa.wa.edu.au/further-resources/year-12-information, continues to be an important reference whether you are studying at school or at home.
Keep up-to-date with information in the Tertiary Institutions Service Centre (TISC) and Jobs and Skills WA COVID-19 updates.
Health and hygiene measures are in place to keep you COVID-safe at the ATAR course practical and written examinations.
The Authority's Sickness/Misadventure process will be available if, at the time of an ATAR course examination, you have evidence that:
you have tested positive for COVID-19
you have COVID symptoms (fever, cough, sore/scratchy throat, shortness of breath, loss of taste or sense of smell)
you are waiting for the results of a COVID-19 test.
Examination day protocols
The Authority is following the advice of the Chief Health Officer in relation to COVID‑19. The Authority will be:
What do I do if I am sick or isolating due to COVID-19?
The following information provides a guide to making a Sickness/Misadventure application for candidates that experience COVID‑19 symptoms or test positive to COVID‑19 during the 2022 ATAR course examination period.
Application for Sickness/Misadventure
All candidates seeking an approved absence due to Sickness/Misadventure must have delivered their completed application form and evidence to the Authority before 4.00 pm on Tuesday, 22 November 2022.
This form can be downloaded from the School Curriculum and Standards Authority (the Authority) website under the 'Examinations' option of https://www.scsa.wa.edu.au/forms/forms.
Frequently Asked Questions (FAQs)
For current requirements and health advice
Visit the WA Department of Health website.
Call the National Coronavirus Helpline – 1800 020 080
If you are making use of social media to stay connected, share information and provide support to each other, bear in mind:
it is okay to ask questions
it is important to consider the source of the information

use your critical literacy skills
check the validity of sources and content

if you have questions about your courses, you should contact your school
if you have questions about the WACE, you should check this website and, if you require further clarification, contact your teacher or the Authority via info@scsa.wa.edu.au
it is sometimes useful to turn off or step away from social media.
If you are worried about your studies, family or friends and need support, contact your school. Also be aware of the following services:
Back to top of page